Weighted Blanket Can Help More Than Just Sleep Problems
It's called a weighted blanket and it might be the secret weapon you're looking for as a parent of a high-energy kid. The bed cover is filled with plastic poly pell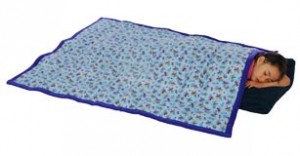 ets similar to those used in Beanie Babies for a heavier feel that creates a natural calming effect in some kids — or even an entire fourth grade class. When word got out among parent friends at my son's school that a Southern California product called The Magic Blanket was turning moody 10-year-olds into well-rested angels, everyone started tucking in. Here's the story:
Traditionally, weighted blankets are used as part of occupational therapy for children experiencing sensory disorders, anxiety, stress or issues related to autism. But even kids without such a diagnosis find important benefits. After a week under his new 16-pound blue chenille Magic Blanket, my son, who's 10, was sleeping more soundly and waking up happier and more focused than he has in ages. Actual magic? Not really but as other parents began reporting similar results, I decided to check in with the product developer, Keith Zivalich, whose company is based in Valencia, California.
Zivalich came up with the idea 15 years ago when his daughter draped a Beanie Baby over his shoulder while he was driving. "It was a lizard that was long and hugged my shoulder, and felt pretty cool," he says. "I thought, 'Wouldn't it be great if you had a blanket that hugged you that way?'" Zivalich's wife created a prototype and then had some made at a factory in Los Angeles. He gave some to friends to try, including a special needs teacher, who immediately discovered how therapeutic a tool the blanket can be.
"That extra pressure on the body is helpful for kids of all kinds, but particularly for kids with autism and sensory processing disorder," Zivalich says. The added weight, he says, causes the brain to release neurotransmitters like serotonin and dopamine that improve moods and induce a calming effect. Temple Grandin has been the most outspoken advocate for using deep touch pressure to soothe special needs children, college students and animals.
When Zivalich's company launched in 1998, he planned to call the product The Original Beanie Blanket and filed a trademark application. Ty Corporation, the company behind the Beanie Babies brand, wasn't pleased and had lawyers issue a cease and desist order.  "After a girl wrote in saying this was her 'magic blanket,' it hit us that we had an even better name," he says.
The Magic Blanket is designed to be just big enough to cover the body, extending from the chin just past the toes (bigger and it would be too heavy). Children's blankets are 36 inches wide and, yes, he makes adult blankets, too, which run 42 inches across. They come in chenille, fleece, flannel and cotton.
Zivalich says he sells thousands of blankets that retail between $60 and around $175. It's a niche product with several competitors, including Mosaic Weighted Blanket, Weighting Comforts andSensaCalm.