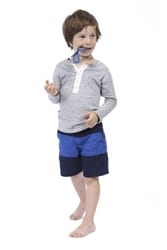 Research now proves what so many parents and professionals know– if you focus the fidgeting, you focus the brain! Enjoy this wonderful article and check out our wide array of products designed to calmly navigate the stormy seas of sensory overload.
Fidgeting Improves Performance
Individuals with autism spectrum disorder (ASD), attention deficit hyperactivity disorder (ADHD), post-traumatic stress disorder (PTSD), and general anxiety are susceptible to engaging their senses on a subconscious level also known as fidgeting. Neurotypicals also exhibit varying degrees of fidgeting from time to time.
Fidgeting can take many forms, including the following:
Visual fidgeting involves noticing details in one's surroundings or watching something while performing a task, such as glancing out of the window or staring at flame.
Sound can serve a fidgeting function as somebody listens to music, for example, while performing a task.
Moving one's body while trying to focus is a common form of fidgeting that includes spinning in a chair, rocking back and forth, twiddling thumbs, shuffling feet, etc.
Using one's mouth or sense of taste is another common way to fidget. Chewing gum, biting your lip, or drinking a beverage can be considered fidgeting.
Although not as common as other ways of fidgeting, the sense of smell can trigger stimulations in the brain that are linked to fidgeting. Lighting a scented candle can even trigger these stimulations.
While fidgeting seems to be therapeutic to some, for those around it can be extremely distracting. For example, somebody who is attempting to concentrate may find the act disruptive or annoying because their mind is being stimulated by the movement of a foot or the sound of a ball-point-pen clicking rather than the task at hand. Therefore, over the years, many strategies have been tried to help people stop fidgeting. However, research is now suggesting that inhibiting the act may have negative impacts.
It is widely believed that attention disorders are caused by chronic under-arousal of the brain. A new study published in the Journal of Abnormal Child Psychology suggests that fidgeting may improve information absorption and performance in individuals who are susceptible to under-arousal of the brain.
The study concluded that the slight physical actions known as fidgeting initiate the human nervous system in much the same way that Ritalin does, thus improving overall cognitive performance. If something we are engaged in is not interesting enough to sustain our focus, additional sensory-motor input that is mildly stimulating, interesting, or entertaining allows our brains to become fully engaged and enables us to sustain focus on the primary activity in which we are participating (Tartakovsky, 2014). In other words, tapping our pencil during a lecture may lead to a better comprehension of the content of the lecture.
If this is true, then efforts to stop fidgeting may actually hinder the capacity to absorb information. For instance, telling a student not to tap her pencil during an assignment may cause her to spend all her mental energy concentrating on that rule, as opposed to the assignment.
If fidgeting does have positive effects on our brains, how can we allow ourselves to fidget while simultaneously being considerate of those around us who may get distracted? Effective fidgeting strategies can be implemented that can eliminate the "annoying" factor. For instance, chewing gum quietly allows for brain stimulation while minimizing disruption. Both children and adults love to color and report that coloring can be a beneficial stress reliever. Sitting on stability balls or working at stand-up desks can also offer fidgeting relief in school and in the workplace. Stress balls that can be squeezed are a very beneficial fidgeting outlet and offer a silent means of doing so.
Given that fidgeting has been correlated with improved performance, instead of terminating the fidgeting altogether, find nondisruptive strategies that work for you and your students and fidget away!
Author: Zach Gouldsmith, Compliments of Our Friends at AAPC Publishing
References
Tartakovsky, M. (2014, March 28). Fidgeting strategies that help people with ADHD focus. Retrieved from http://psychcentral.com/blog/archives/2014/03/29/fidgeting-strategies-that-help-people-with-adhd-focus/
Sarver, D., Rapport, M., Kofler, M., et al. (2015). Hyperactivity in attention-deficit/hyperactivity disorder (ADHD): Impairing deficit or compensatory behavior? Journal of Abnormal Child Psychology. doi: 10.1007/s10802-015-0011-1