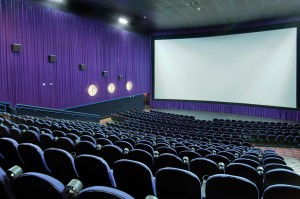 10 Tips to Taking Your Special Needs Child to the Movies
BY LISA QUINONES-FONTANEZ 
As a kid I went to the movies all the time with my parents. I remember vividly, standing on a line that wrapped around an entire block to see Star Wars. On hot summer days, we'd spend our afternoons at the local theater watching movie after movie. Going to the movies is a fun family outing for so many. But having a child with special needs makes a simple trip to the movies challenging.
Over the summer we took our seven-year-old son, Norrin, to the screening of Disney Planes – his first 3-D movie. It was a MAJOR milestone for us.
Like I said, for many families going to the movies is no big deal. But for us, it is. Norrin has autism and has many sensitivities to loud noise and bright lights. While he enjoys watching movies at home, sitting in a movie theater to watch a film is difficult for him.
Over the last five years (since his autism diagnosis), we've seen five movies. And each time has been a little bit easier. I thought I'd share some tips that have helped us over the years.
Wait. There are some folks who need to see a movie on the day it comes out. This is probably not the best time to take a special needs child – no matter how excited they are to see it. Wait a few weeks for the hype to wear off.
Know When To Go. Even after the hype wears off, going to the movies during peak times can be overwhelming. Try to catch the first movie showing on a weekend or go during the week. If you have a theater in mind, call up and ask what days are the least crowded.
Take a friend. Does your child have a 'typical' friend they look up to? Take them along to be a model for appropriate behavior during the movie. Maybe having a friend along will be more comforting.
Keep It Local. I love going to small neighborhood theaters. Sometimes I get overwhelmed by the major multiplex. When taking a special needs child to the movies – especially for the first few times, start small and work your way up.
Bring Your Own Snacks. I know you're not supposed to and you didn't hear it from me but bring snacks from home. A special treat you know your child will sit still for. It will also help cut costs. If you don't BYOS – make the concession stand a "reward."
Bring a Comfort Item. We usually bring our iPad where ever we go. At the screening of Planes there were no phones or iPads allowed so brought a few toys with us. In case there's a lull, a comfort item may help them through the parts they're not interested in.
Bring Noise Canceling Headphones. If your child has sensitivities to loud noises, bring a pair of noise canceling headphones to muffle the sound.
Prepare Your Child. Preparation is always key. Some ways you can prepare at home is to "play" movie theatre. Turn off all the lights, put on a movie and practice sitting and being quiet. We like to show Norrin various movie trailers before going to the movies. I print out coloring pages from the movie and get him interested in the characters. The more familiar he is with the movie, the easier time he has sitting through it.
Know What Your Child Likes. This may sound obvious but not all kid movies will appeal to all kids. Especially when some special needs children have very specific interests. As much as Norrin loves watching movies, he's not interested in live-action films so we stick to animated films.
Attend a Sensory Friendly Film Screening. The first movie we took Norrin to was a Sensory Friendly Film. They are truly ideal for a special needs child's first movie. The "silence is golden" rule does not apply during sensory friendly screenings. Kids are able to get up, walk around, shout, dance, and sing. Families can freely bring in their own snacks. The lights aren't dimmed all the way, the sound is reduced, and there are no previews.