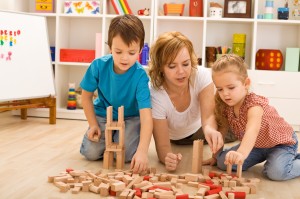 Children on the spectrum often work with a team of specialists. Don't forget parents are the captains of that team! Here is one activity that you can do at home that will compliment any therapy.
By Kate Miller-Wilson
I Need Help!
An important activity for improving functional communication involves setting up situations where a child needs to ask for your help. Kids on the spectrum can be extremely self-sufficient, helping themselves to snacks or devising ingenious ways to reach the toys they need. However, with some forethought, you can set up situations where the child needs to ask you for help.
Follow these steps to get your child using language to meet his needs:
Make a list of things the child wants on a regular basis. These items may include favorite toys, videos, music equipment, books, snacks, or other objects.
Find a spot in the room where the child cannot reach these objects but they are still well within his sight. Place one of the items there, and then wait for the child to notice.
Model the proper way to ask for help, such as saying "Will you help me please?" Have the child say the words after you.
Place another item in the same spot and wait to see what the child does. You may need to prompt him several times, but eventually, he'll begin asking.
Next, try to incorporate this activity in more general situations and other settings.